Congratulations to Jenna Burke, who finished the 5 year MA in English and has been awarded the $2000 P.C. Somerville Prize for Future Teachers from Sigma Tau Delta. She was also awarded the Erath Award at graduation.
Congratulations to Nicole Dittmer, a 2016 graduate of TCNJ's M.A English program and current Adjunct for the college, has been accepted to present her work on Eco-criticism and Gothic fiction at the 2018 International Bicentenary Conference on Mary Shelley's Frankenstein in Venice, Italy, at the end of February. Dittmer's article "The Infertile 'Frankenstein': Eugenics & The Sterilization of Victor Frankenstein" was written during her first year in the program for Larry McCauley's The Green 19th Century course. A course which focused on relationships to the environment and representations in 19th century writing. Dittmer will join various scholars from around the world to celebrate the 200th year anniversary of the publication of Frankenstein. She will discuss the negative impact of science and technological
manipulation on the biological reproduction of Victor Frankenstein for a panel titled "The Sublime, Sympathy, and Eugenics" at the (Ca Foscari) University of Venice.
Congratulations to Barbra Stoffels for achieving her BA at 74 years old! See the article on NJ.com: http://www.nj.com/mercer/index.ssf/2017/05/57_years_after_starting_college_nj_woman_earns_bac.html
Congratulations to Courtney Kalafsky English Secondary Education Major whose honors thesis won the Alan Dawley Prize. Courtney wrote her thesis, "Authenticity and Witnessing in Postmemorial Holocaust Literature," with Ellen Friedman's supervision.
The Alan Dawley Center for the Study of Social Justice will award an annual prize for the best essay, film, work of art, or other creative project that addresses a social justice issue, from any disciplinary or interdisciplinary perspective, produced by a TCNJ undergraduate in the current academic year. The prize honors the life and work of TCNJ Professor of History Alan Dawley whose scholarship addressed historical and contemporary issues of social justice as a complex dialogue of many voices both in the American context and globally.
Congratulations to English major Kelly Lukens who has received the Alice Cogswell Honors Medal. The medal celebrates her achievement in American Sign Language and is awarded by the ASLTA (American Sign Language Teachers Association).
Congratulations to the English majors inducted last night as new members-in-course of the TCNJ chapter of Phi Beta Kappa: Henry Albright, Rachel Lyn Atkins, Anna Gracey, Courtney Kalafsky, Shannon M. Kelly, Levi Klinger-Christiansen, Michael Laudenbach, Michelle Lesniak, Samantha Miller, Lauren Muccilli, Julie Prascsak, Julienne Richards, Alyssa Sanford, and Cheyenne Wickham. Congratulations to the Creative Writing minors inducted: Kyle Siegel and Maria Printon.
Check out Jenna Burke's Blog Post for the International Sigma Tau Delta Blog about the quadracentennial of Shakespeare's death: http://www.wordybynature.org/shakespeare400-bards-quadricentennial/.
Congratulations to those who participated in the 2017 Sigma Tau Delta Conference in Louisville, KY.
James McAteer won for "Grass as Agent of US Growth in Song of Myself,"
Michelle Lesniak won for "Boyhood Bonds and the Privilege of Mobility"
Kristen Capano was elected by students across the region to be the Student Representative for the Eastern Region of Sigma Tau Delta
Samantha Miller is beginning the second year of her two year term as Student Advisor to the Sigma Tau Delta Board. As Student Advisor, Sam is a voting member of the Board of Directors. as the senior Student Advisor, Sam coordinates all the student leaders of Sigma Tau Delta across the 6 regions.
Male and Female Co-Workers Switched Email Signatures, Faced Sexism- check out the article about Alum Nicole Lee Hallberg's experience at: http://www.newsweek.com/male-and-female-coworkers-switched-email-signatures-faced-sexism-566507
Congratulations to Alena Woods for winning the 2016 Peter Wood Award:
Here are the judge's comments on Alena's submission:
WINNER: Alena Woods' poetry does all of the work we ask for in a poem: her poems cause me to pause, make me want to revisit, and linger long after I am done reading. Her work shows great potential in its range of style, voice, and tone. I am excited to watch her growth and I will not even entertain the thought that she might stop writing.
This year's award was judged by Kathleen Volk Miller.
ABOUT KATHLEEN VOLK MILLER: Kathleen Volk Miller is co-editor of the literary magazine Painted Bride Quarterly, director of the Drexel University graduate program in Publishing, co-director of the Drexel Publishing Group, and a Teaching Professor at Drexel University. She recently co-edited Humor: a Reader for Writers (Oxford Press, 2014). Volk Miller writes fiction and essays, with work in publications such as Salon.com and the New York Times.
Sigma Tau Delta Awards and Recognition 2016:
Samantha Miller was elected as the student representative to the Board of Directors for Sigma Tau Delta for a 2 year term.
Junior Jenna Burke was elected as Associate Student Representative for the Eastern Region of Sigma Tau Delta for a 1 year term.
Senior Andrew Ryan won a $150 third place prize in the American Diversity category for his essay, "Selfhood as Suspect in the Poetry of Black Identity."
Junior Caitlin Mannion won a $150 third place prize for a paper on English Education / Pedagogy for her essay, "English Teachers: the New and Necessary Cyborgs."
Junior Samantha Miller won a $300 second place prize for a paper on English Education / Pedagogy for her essay, "The Bully Bridge of Young Adult Literature."
Senior Julia Woolever won a $600 first place prize for British or World Literature for her essay, "Influence and Identity: Black British Bildungsromane."
JPW Alum James Queally is playing a leading role at the LA Times!
See his coverage of the mass shooting in San Bernardino December 2015: http://www.latimes.com/local/lanow/la-me-ln-san-bernardino-shooting-main-20151203-story.html
English Majors
Jennie Sekanics, Erin Shannon, Colleen Murphy (back row), Susan Haefner, Abigail Hsu, and Shayna Innocenti (front row) receive Academic Achievement Awards from the School of Humanities and Social Sciences on October 23, 2015.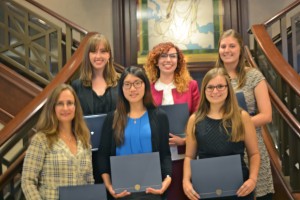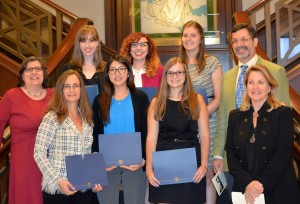 Congratulations!
Susan Haefner-Professional Writing Award
Abigail Hsu- Academic Excellence in Chinese Self-Designed Major
Shayna Innocenti- Robert Cole Award
Colleen Murphy- Tiffany Award
Jennie Sekanics- Alice Paul Award for Activism
Erin Shannon-Academic Achievement Award in English
An article by Heba Jahama, "Your Cost of Living": Bare Life and Exception in Let it Be Morning, has been accepted for publication by *The Sigma Tau Delta Review*. Heba wrote the article in an independent study with Dr. Mindi McMann.
The English Department would like to Congratulate the Sigma Tau Delta Alpha Epsilon Alpha Chapter at TCNJ.
Members of the class of 2015 who presented scholarly works at the 12-13 October 2012 Eastern Regional Sigma Tau Delta Conference held at Shepherd University in Shepherdstown, WV are:
Robyn Gold '15 for "Death May Be a Change of Style , but Surely no of Substance: A Reincarnation of Words"
Sara Stammer '15 for "Comments for Lou F. Caton: A Critique"
Congratulations to members of the Class of 2015 who presented scholarly works at the 20-23 March 2013 Sigma Tau Delta International Convention held in Portland, OR.
Robyn Gold '15 for " A Reincarnation of Words: Erasure Poetry"
Sara Stammer '15 for the chairing a session and for "The Systematic Grip: The Masculine Gaze:
Congratulations to Samantha Altman '15, whose photographs "Pollinate Me" and "A Storm's Start" appeared in The Sigma Tau Delta 2014 Eastern Region Mind Murals literary journal.
Congratulations to Carly DaSilva '15, whose poem " To Make Me a Bird" appeared in the Sigma Tau Delta 2015 Rectangle. Carly was also invited to read her poetry at the Rectangle reading on 18 March 2015 in Albuquerque, NM.
Congratulations to members of the class of 2015 who served as chapter board members.
Samantha Altman '15, co-president in 2014-2015
Kelly Conboy '15, secretary in 2014-2015
Robyn Gold '15, vice president in 2013-2014 and co-president in 2014-2015
Whitney Hendrickson '15, publicist in 2014-2015
Susan Pereny '15, treasurer in 2014-2015
Congratulations to members of the Class of 2015 who presented scholarly works at the 26 February – 1 March 2014 Sigma Tau Delta International Convention held in Savannah, GA.
Robyn Gold '15 for chairing a session and for "The Latina Woman: Neck or Head"
Susan Pereny '15 for "The Unintentional Feminism of Thomas Traherne"
Sara Stammer '15 for "The American Dream, The Minority Nightmare"
Congratulations to Sara Stammer '15 who was elected as Eastern student representative to the national board of Sigma Tau Delta for academic year 2015-2016
Congratulations to Robyn Gold '15 who was awarded a $1000 Eastern Regent Scholarship to pursue her MA in English in the five year program at The College of New Jersey.
Congratulations to members of The Class of 2015 who presented scholarly or creative works at the 18-21 March 2015 Sigma Tau Delta International Convention in Albuquerque, NM.
Nicole Cammarota '15 for "Trauma Authenticated by Silence: Fugitive Pieces"
Kelly Conboy '15 for "I Heard it Through the Grapevine: Interpersonal Communication in the Persuasion"
Carly DaSilva '15 ENGA for her Poetry Collection: "The Glass Memoir"
Robyn Gold '15 for "The Cave: Marston's Sophonisba and Middleton's The Witch"
Megan Osika '15 for "Mexican-American Multi-culturalism in Butterfly Boy"
Susan Pereny '15 for "Mistaken Identity: Realism and Great Expectations"
Sara Stammer '15 for "A Manifestation of Trauma: Hubrid Postmemory"
Congratulations to Dr. Felicia Steele, Prof. Diane Steinberg, and our TCNJ Chapter, who will chair and host the 2016 Sigma Tau Delta International Convention in Minneapolis, MN.