The English Department at The College of New Jersey (TCNJ) is offering a summer institute for English language arts teachers on "The Power of Story."  The four-day institute provides 20 hours of professional development, covers a wide range of topics, and is taught by TCNJ faculty.
Day 4: Flash Fiction 
Flash fiction is a short story that is, by most definitions, 1,000 words or less. Participants in this workshop will discuss flash fiction's unique features and will investigate the strengths and challenges of writing and teaching flash in the middle and high school settings. Participants will read samples from several flash styles (list stories, mosaics, and myth riffs, for example), and discuss how students could use these forms to write their own short stories. Participants will write their own flash pieces and participate in a model writing workshop. In addition, there will be time to discuss techniques and exercises that encourage student writers to be brave and write with creative authenticity.
Madeline Anthes Day 4 Facilitator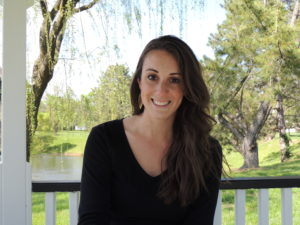 Madeline Anthes received her MFA in Creative Writing (Fiction) and her MA in English from Arcadia University. She teaches in the Liberal Learning Program at The College of New Jersey; her First Seminar Program course centers on the topic of Resistance in Young Adult Fiction, and her Writing 102 course is on the topic of contagion. She is the Assistant Editor of Lost Balloon Magazine and the Acquisitions Editor of Hypertrophic Literary. Her fiction has been nominated for a Pushcart Prize, Best Microfiction 2018, Best Small Fictions (2017 and 2018), and her flash has been longlisted for Wigleaf's Top 50 Very Short Fictions (2017 and 2018). Her first collection of flash fiction, Now We Haunt This Home Together, will be published in February, 2020.
Return to Institute Information
Day 2: Storytelling Beyond Plot: A Very Short Introduction to narrative Theory by Prof. Felicia Jean Steele
Day 3:  Mí María: Disaster Narratives and the Language Arts Classroom by Lisa Ortiz