Professor
Board Member of the Thornton Wilder Society
and Co-Founder and Board Member of the Edward Albee Society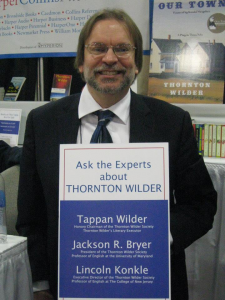 Lincoln Konkle earned his Ph.D. in English at the University of Wisconsin-Madison, his M.A. in English (Creative Writing) at Kansas State University, and his B.S. in English at Indiana University. He is a Board Member of the Thornton Wilder Society. He also is an officer of the Edward Albee Society, which he co-founded with David Crespy in 2013. He teaches the First Seminar, World Drama, Modern European Drama, American Drama, and the English Major capstone course, Seminar in Theory and Research, on topics related to dramatic literature.
Selected Publications
Thornton Wilder: New Perspectives.  Co-editor with Jackson R. Bryer.  Northwestern University Press, 2013.
"'World Without Pity': The Tragic Vision of Bruce Springsteen." Bruce Springsteen and The American Soul: Essays on the Songs and Influence of a Cultural Icon. Ed. David Garrett Izzo. Jefferson, North Carolina and London: McFarland & Co., Inc., 2011, 93-102.
Thornton Wilder and The Puritan Narrative Tradition. U of Missouri Press, 2006.
Stephen Vincent Benet: Essays on His Life and Work. Co-editor with David Garrett Izzo.  McFarland & Co., Inc., 2003.
"'Good, Better, Best, Bested': The Failure of American Typology in Who's Afraid of Virginia Woolf?" in Edward Albee: A Casebook, Ed. Bruce Mann. Routledge, 2003, 44-62.
"American Reincarnations: The Devil and Daniel Webster from Fiction to Drama to Film." in Stephen Vincent Benet: Essays on His Life and Work, 167-205.
"Puritan Paranoia: Tennessee Williams's Suddenly Last Summer as Calvinist Nightmare." American Drama 7.2 (Spring 1998): 51-72.
"'Histrionic' vs. 'Hysterical': Deconstructing Gender as Genre in Xorandor and Verbivore."  Utterly Other Discourse: The Texts of Christine Brooke-Rose.  Ed. Ellen J. Friedman and Richard Martin.  Dalkey Archive Press, 1995: 176-191.
*This link will take you to an individual's web page. Material on this page is not controlled or maintained by The College of New Jersey and should not be considered official content of TCNJ's Web site. Authors of these pages are responsible for obeying all relevant laws and College policies, including those delineated in TCNJ's Computing Access Agreement and Web Page Policy.