Professor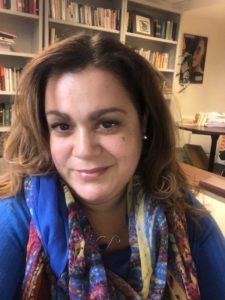 Phone: (609) 771-3231
Email: ortiz@tcnj.edu
Office: Bliss Hall 229
Lisa Ortiz-Vilarelle specializes in 20th and 21st century Multiethnic and Inter-American literature and autobiographical studies with specific interest in narratives of colonialism, exile, immigration, and dictatorship throughout the Americas. In her more than two decades at the College, she has taught courses in literary theory, global women's writing, autobiographical studies, and Latinx literature in both our undergraduate and graduate programs.
Dr. Ortiz-Vilarelle serves as Editor in Chief for a/b: Auto/Biography Studies, the international journal of the Auto/Biography Studies Society in the Taylor and Francis portfolio. She is 2021-22 Fulbright Research Chair in the Faculty of Arts at the University of Alberta, Canada. She has also had Visiting Scholar posts in the Center for Biographical Research at the University of Hawai'i, at Manoa (2018) and in the Departments of Modern Languages and Cultural Studies and English and Film Studies at the University of Alberta, Edmonton (2020).
She is the 2018 recipient of The Hogan Prize, awarded annually by a/b: Auto/Biography Studies for an outstanding essay published in the journal. The prize was named in honor of two of the journal's founding editors, Rebecca and Joseph Hogan, who worked tirelessly and creatively to expand the field of auto/biography studies. This award recognizes ingenuity in scholarly research and supports critical work that advances the field.
Dr. Ortiz-Vilarelle is a 2022-23 participant in the Kule Institute for Advanced Study (KIAS) hybrid exhibit, symposium, and publication project titled "The Institution of Knowledge." Her work, the "Metrical Gaze of the Institution," is a study of how academics navigate systems of biodigital data entry by which academic careers are documented and assessed and employs life narrative theory to consider the impact of digital tools on the assemblage and self-portraiture of scholarly life in the 21 st century.
Her recent book, Américanas, Autocracy and Autobiographical Innovation: Overwriting the Dictator (2020) is published with Routledge Press in its Auto/biography Studies Series. Her next title, In the Spaces Provided: Women's Academic Career Narratives as Autobiography, is an edited collection of autotheoretical essays by life writing scholars who reflect on their self- construction as academic women and is forthcoming with Routledge Press (2023). She is currently at work on a monograph about academic career narratives as a genre capable of social justice-centered forms of intellectual fellowship and activism in the academy. This work is tentatively titled Life's Work: Personhood and Affiliation in the North American Academy.
Dr. Ortiz-Vilarelle's other recent publications include:
"'The Place My Grandmother Made': Diaspora Genealogy in Michelle Cliff's Abeng and No Telephone to Heaven," forthcoming Life Writing Annual, vol. 5 (2023)
"(Life) Writing to Belong: Teaching and Learning on Camera During a Pandemic," a/b: Auto/biography, 37.3 (2023)
"Assembling Academic Persona and Personhood in a Digital World," Persona Studies, 8.1 (2022)
" Textile Autobiography: Protest, Testimony, and Solidarity in the Chilean Arpillerista Movement ," Biography: An Interdisciplinary Quarterly, vol. 44:4 (2022) 
"Self/Culture/Writing: Autoethnography in the 21st Century," guest-edited 2-issue feature in Life Writing, publication of the Autobiographical Research Unit of Curtin University, Australia. 18.3 (2021) and 18.4 (2021)
"Academic Career Construction: Personnel Documents as Personal Documents," Life Writing, Vol. 17 – 2020. Reprinted in Career Construction Theory and Life Writing: Narrative and Autobiographical Thinking Across the Professions, Ed. Hywel Dix (Routledge 2020) 
"Concealing and Revealing in Auto/biographical Texts," a/b: Auto/biography Studies, Special Forum, co-edited with Laura Beard, 43.2 (2019) 
"Impossible Autobiography: For Phillippe Lejeune," Cher Philippe. A Festschrift for Philippe Lejeune on the Occasion of his 80th Birthday, edited by T. G. Ashplant, Clare Brant, and Ioana Luca, (2018)
 "Autobiographical DNA: Movement as Survival in Dictatorship of the Americas," Canadian Review of Comparative Literature, Special Issue: "Autobiographical Movement in the Americas," 45.4 (2018) 
"Milk Poems and Blood Poems: Womanhood, Embodiment, and The New Nicaraguan Woman," a/b: Auto/Biography Studies, 33.2 (2018)  
"Distinguished Ladies" and the Doctrine of Womanhood: Auto-surveillance and Auto-performance in Diamela Eltit's E. Luminata, The Journal of European Life Writing vol. 6 (2017)