2018:
An interesting piece by Michael Robertson:
Congratulations to Dr. Michael Robertson who has been appointed Honorary Research Fellow in the School of Arts in Birkbeck College, University of London, for the 2018-19 academic year. While on sabbatical in London he will be researching his new book, a biography of nineteenth-century writer, artist, and socialist William Morris.
Congratulations to Dr. David Blake who has agreed to serve as the interim Vice Provost for Faculty and Academic Planning, effective July 1, 2018 for TCNJ.
Congratulations to Michele Tarter for publication of her new book: New Critical Studies on Early Quaker Women, 1650-1800 released by Oxford University Press.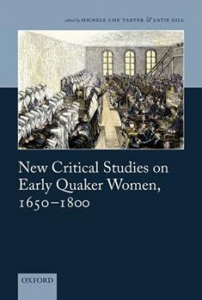 Congratulations to Lincoln Konkle, Winner of the Robert Anderson First Seminar Instructor of the Year Award!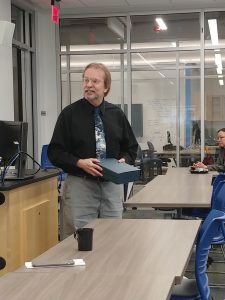 Congratulations to Dr. Lisa Ortiz who has won the Hogan Prize, "presented by the editors of a/b: Auto/Biography Studies in recognition of an outstanding essay published in the journal."
2017:
Congratulations to Harriet Hustis on her latest publication "The Only Survival, The Only Meaning": The Structural Integrity of Thornton Wilder's Bridge in John Hersey's Hiroshima on Assay: A Journal of Nonfiction Studies: https://www.assayjournal.com/harriet-hustis-the-only-survival-the-only-meaning-8203the-structural-integrity-of-thornton-wilders-bridge-in-john-herseys-hiroshima.html
Congratulations to Cassandra Jackson who is working with the Grounds for Sculpture in Hamilton, New Jersey as the first-ever scholar-in-residence, consulting on a visual representation regarding the history of race in the US. The exhibit, entitled Joyce J. Scott: Harriet Tubman and Other Truths, opens to the public at the Grounds for Sculpture on October 22 and is on view through April 1. In addition to this project, Professor Jackson is presently working on a book of creative non-fiction on race and infertility as well as a collaborative project on Toni Morrison. For more info: https://englishgrad.tcnj.edu/2017/11/06/faculty-profile/
Congratulations to Michele Tarter who is mentioned in this great article about NJ's toughest teaching jobs: http://www.nj.com/education/2017/06/njs_toughest_teaching_jobs.html
Congratulations to TCNJ Alumna, Maria Mostyka, and Dr. Harriet Hustis received word that an article that they wrote during their 2013 MUSE Project has been accepted for publication in the Russian Review: http://www.russianreview.org.
Congratulations to Dr. David Blake for winning the 2017 PROSE Award for the year's best book in Media & Cultural Studies! https://proseawards.com/winners/
Congratulations to Dr. Ellen Friedman for publication of her new book The Seven, a Family Holocaust Story: http://www.wsupress.wayne.edu/books/detail/seven-family-holocaust-story.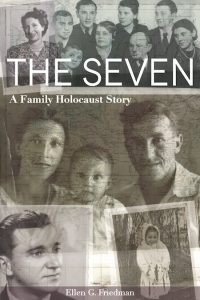 2016:
Congratulations to Jess Row for receiving the Guggenheim Fellowship!
http://news.tcnj.edu/2016/04/27/jess-row-receives-guggenheim-fellowship/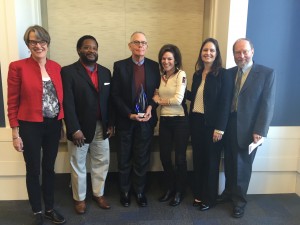 http://news.tcnj.edu/2016/03/10/kamber-named-inaugural-fsp-instructor-of-the-year/
Congratulations to Dr.Michele Tarter a finalist for the First Seminar teaching award! She's in the center with Dr. Kamber of the Philosophy Department, who won the award.
2015:
Life Sentences: Writing with Wisewomen Behind Bars
Michele Lise Tarter will present this year's Judith Weller Harvey Distingushed Quaker Scholar Lecture on "Life Sentences: Writing with Wisewomen Behind Bars." Michele will talk about her fifteen years of teaching "Woman is the Word," a memoir-writing workshop in New Jersey's only maximum-security prison for Women (the Edna Mahan Correctional Facility in Clinton).
These "wisewoman", as Michele calls the participants, first read a diverse selection of autobiograpical writings by women. Then they work on their own memoirs, ultimately reclaiming their voices and their lives through the power of the written word .
Michele will also talk about early Quakers, especially Quaker women, who spent quite a lot of time… in jails. Imprisoned for their nonconformity and their overall threat to patriarchal society, women Friends nevertheless drew tremendous strength and courage from their religious society and its transatlantic network of support. While studying the manuscript diaries and letters of 17th-century Friends, Michele found an extraordinary testament to the power of community—a strength that overcomes oppressive regimes and shines light even within the darkest dungeon or "gaol" cell.
Like the Quaker women of centuries ago, Michele and the "wisewomen" write together behind bars. The women find empowerment in this sacred act; it leads them to rediscover themselves, find agency in their voices, and reconnect to the wider world beyond cages, gates, and barbed wire. Whereas they have suffered humiliation and dejection in being locked away—joining millions of Americans who are now imprisoned in our "Incarceration Nation"—they now experience the power of the written word that transcends prison walls and overwrites centuries of punishment and confinement.
Michele Lise Tarter is professor of English at The College of New Jersey. She has published and presented extensively on early Quaker women's writing, Quaker pedagogy, and on Quaker texts and the expansion of the American literary canon. She has also co-edited two book collections: Buried Lives: Incarcerated in Early America (University of Georgia Press, 2012) and "A Centre of Wonders": The Body in Early America (Cornell University Press, 2001). Her most recent book manuscript is based on her volunteer work teaching memoir-writing to women "lifers." Michele is a member of Haddonfield Monthly Meeting in New Jersey.