The English Department at The College of New Jersey (TCNJ) is offering a summer institute for English language arts teachers on "Teaching Poetry (without Fear)."  The four-day institute provides 20 hours of professional development, covers a wide range of topics, and is taught by TCNJ faculty.
Diane Vanner Steinberg (facilitator on Day 1)
Diane Vanner Steinberg will introduce the genre of lyric poetry and some sub-genres associated with it, especially those easily adapted for creative writing exercises in middle and high school classrooms: acrostic, found poetry, haiku, limerick, villanelle, visual poetry, etc. She will also review some easy tricks to help readers scan poetry and discover its metrical patterns, reviewing poems that use meter to enhance and support meaning. We will also examine a collection of lyric poems that have worked well in classrooms filled with reluctant poetry readers, and brainstorm some approaches to those poems. All of the poetry will be Modern English language poetry, and examples will be taken from American, British and Anglophone literature. Some of the poets will be canonical; some will be contemporary; and some will be from earlier centuries.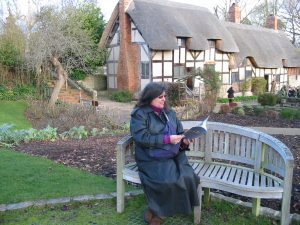 Diane Vanner Steinberg is an 20-year veteran of the Department of English at TCNJ who has taught grade 5 through graduate students.  Her fields are medieval and Early Modern studies, drama, British Romanticism, and the English language.  She has graduate degrees from St. John's College in Annapolis, MD, and Indiana University in Bloomington and an AB from Harvard University.  She has directed and produced many student plays and has taught a course in British Theatre in London and Stratford-upon-Avon.  The recipient of two NEH grants, one to explore using film and live theatrical performance to teach Shakespeare and the other to study trends in Shakespearean scholarship, she has taught much of William Shakespeare's canon and many other Western dramatists. Prof. Steinberg teaches courses in Introduction to Poetry and British Romanticism. 
For more information about registration, contact George Hefelle (hefelleg@tcnj.edu)
For more information about the institute's curriculum, contact Glenn Steinberg (gsteinbe@tcnj.edu)