The English Department at The College of New Jersey (TCNJ) is offering a summer institute for English language arts teachers on "Teaching Poetry (without Fear)."  The four-day institute provides 20 hours of professional development, covers a wide range of topics, and is taught by TCNJ faculty.
Day 4: Language and Poetry: From the Page to the Stage
US secondary schools feature a number of opportunities for students to perform poetry through poetry slam events or dramatic reading festivals, such as Poetry Out Loud. The reading styles associated with these events can, on occasion, become so conventional as to become caricatured. A poetic reading should give voice to the linguistically salient elements of the poetry: to meter, rhyme, assonance, and consonance. One does not, however, need to be musical to hear these things: they can also be visualized. Participants in this workshop will learn how to use textual markup techniques and technologies available in cell phones and lap top computers to visualize meter, rhyme, rhythm,, assonance, and consonance. In addition participants will listen to and comment on a number of different styles of performance, developing a vocabulary to talk about poetic performance with their students and colleagues. 
July 18, 2019
facilitated by Prof. Felicia Steele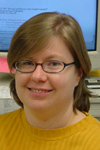 Felicia Jean Steele (facilitator on Day 1)
Felicia Jean Steele received her B.A. from the University of New Mexico and her M.A. and Ph.D. from the University of Texas at Austin. She teaches courses in introductory linguistics and the global history of the English language, as well as courses in early literatures and medievalism in British literature. Professor Steele's main research is in historical linguistics, specifically auxiliary verb change over the history of the English language. She has also published essays in historical phonology ("Grendel: Another Dip into the Etymological Mere," English Language Notes, 2003) and the uses of linguistic analysis in discussions of literary influence ("Shakespeare's Sonnet 130, Explicator" 2004). Steele will present two papers at the 2004 Modern Language Association Convention: "Encoding Colonial Discourse in a Swahili-English Dictionary" and "Traversing Corpora: Tracking Auxiliary Verb Change in English." She also maintains research interests in writing assessment, cognitive linguistics, medieval literature, and the literature of the Inklings, particularly J. R. R. Tolkien and C. S. Lewis. She is one of the co-sponsors for Sigma Tau Delta, the English Honor Society.
Day 1: Poetry Tool Kit by Prof. Diane Steinberg
Day 2: Practicing Confidence Through Approaching the Unknown: Contemporary Poetry in the Middle and High School Classroom by Prof. Laura Neuman
Day 3: Sonnets: New Takes on an Old Form by Prof. Jo Carney
Register here: https://goo.gl/h5x6Jt
For more information about registration, contact George Hefelle (hefelleg@tcnj.edu)
For more information about the institute's curriculum, contact Glenn Steinberg (gsteinbe@tcnj.edu)