The English Department at The College of New Jersey (TCNJ) is offering a summer institute for English language arts teachers on "The Power of Story."  The four-day institute provides 20 hours of professional development, covers a wide range of topics, and is taught by TCNJ faculty.
Narratives Ever After: Fairy Tales from the Renaissance to the Postmodern
Jo Carney (facilitator on Day 1)

Most people today are familiar with fairy tales through cultural osmosis and their exposure is limited to a few familiar tales. And although a popular misconception is that fairy tales are intended for children, we will discover that it is a highly fluid genre that has always appealed to audiences of all ages. In this seminar, we will explore the rich, varied tradition of the literary fairy tale that includes writers from Renaissance Italy, the French women
salon milieu of 17th-century France, the folklore movement of the German Romantic period and the Brothers Grimm, and 19th century writers Hans Christian Andersen and Oscar Wilde.  We will also look at how their works have been transformed and appropriated by contemporary and postmodern writers, including Margaret Atwood, Donald Barthelme, Angela Carter, Robert Coover, and Michael Cunningham. We will consider the culturally influential (for better or worse) fairy tale tradition through a variety of theoretical lenses—so check your Disney at the door.
Jo Carney (facilitator on Day 1)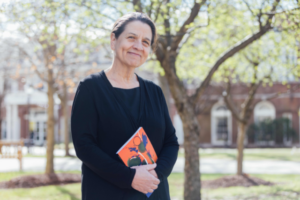 Jo Carney's most recent books are Women Talk Back to Shakespeare: Contemporary Adaptations and Appropriations; A Biographical Encyclopedia of Early Modern Englishwomen; and Fairy Tale Queens: Representations of Early Modern Queenship. She has also published articles on Renaissance and contemporary fairy tales, Shakespeare, and early modern queenship.  Professor Carney teaches courses in Shakespeare, Early Modern British literature, the literary fairy tale, and contemporary literature.  She is currently writing a book about the role of the fairy tale tradition in Shakespeare's plays.
Return to Institute Information
Day 2:  Mí María: Disaster Narratives and the Language Arts Classroom by Prof. Lisa Ortiz