The English Department at The College of New Jersey (TCNJ) is offering a summer institute for English language arts teachers on "The Power of Story."  The four-day institute provides 20 hours of professional development, covers a wide range of topics, and is taught by TCNJ faculty.
Day 2 Mí María: Disaster Narratives and the Language Arts Classroom
Over 150 students at the University of Mayagüez, Puerto Rico have gathered together under the direction of their English Professor to create a collection of personal narratives, protest chants, song lyrics, interviews, oral histories, photographs, comics, and radio broadcasts about local experiences living through Hurricane María and its aftermath. The soon-to-be published collection is just a small selection of these powerful acts of witness to modern-day disaster. In conjunction with the Voices of Witness project, these students are also contributing a major storytelling archive to the Humanities Action Lab for their traveling exhibition on disaster narratives.
In this one-day workshop, participants will read, watch, and listen to Mí María narratives and consider the range of autobiographical storytelling practices that comprise the project. They will also consider the students' various methods of acquiring and recording these stories as part of their social-justice centered coursework in the English major. Together, participants will discuss the project as a mass-witnessing of both the tragedy of disaster and the triumph of solidarity as the Puerto Rican people came together to endure months of recovery and reconstruction. Participants will also have guided opportunities to consider developing their own storytelling projects the classroom. Together, they will also be able to review and consider adopting the Mí María project as part of their own language arts curricula.
For more information: http://voiceofwitness.org/stories-puerto-rico/
Lisa Ortiz-Villarelle (Day 3 facilitator)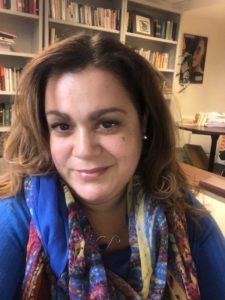 Lisa Ortiz-Vilarelle specializes in 20th and 21st century Multiethnic and Inter-American literature and autobiographical studies with specific interest in narratives of colonialism, exile, immigration, and dictatorship throughout Canada, The United States, and Latin America. In her more than two decades at the College, she has taught courses in literary theory, autobiographical studies, and Latinx literature in both the undergraduate and graduate programs.
Dr. Ortiz-Vilarelle  was a 2021-22 Fulbright Research Chair in the Faculty of Arts at the University of Alberta, Canada. She has been a Visiting Scholar in the Center for Biographical Research at the University of Hawai'i, at Manoa (2018) and in the Departments of Modern Languages and Cultural Studies and English and Film Studies at the University of Alberta, Edmonton (2020). She currently serves as Book Reviews Editor for a/b: Auto/Biography Studies. Her recent book, Américanas, Autocracy and Autobiographical Innovation: Overwriting the Dictator (2020) is in print with Routledge Press. Her next title, In the Spaces Provided: Women's Academic Career Narratives as Autobiography, is an edited collection of autotheoretical essays by life writing scholars who reflect on their self-construction as academic women and is forthcoming with Routledge Press. She is currently at work on a monograph about academic career narratives as a genre capable of social justice-centered forms of intellectual fellowship and activism in the academy. This work is tentatively titled Life's Work: Personhood and Affiliation in the North American Academy.
Other Recent Publications
"Textile Autobiography Protest, Testimony, and Solidarity in the Chilean Arpillerista Movement," Biography: An Interdisciplinary Quarterly,  44:4 (2022).
Guest Editor, 2-issue feature, Life Writing, "Self/Culture/Writing: Autoethnography in the 21st Century," Autobiographical Research Unit of Curtin University, Australia. 18.3 (September, 2021) and 18.4 (December, 2021)
 "Academic Career Construction: Personnel Documents as Personal Documents, "in Career Construction Theory and Life Writing: Narrative and Autobiographical Thinking Across the Professions (2020)
"Concealing and Revealing in Auto/biographical Texts," a/b: Auto/biography Studies, Special Forum, co-edited with Laura Beard, (2019)
"Impossible Autobiography: For Phillippe Lejeune," Cher Philippe. A Festschrift for Philippe Lejeune on the Occasion of his 80th Birthday, edited by T. G. Ashplant, Clare Brant, and Ioana Luca, (2018)
"Autobiographical DNA: Movement as Survival in Dictatorship of the Americas," Canadian Review of Comparative Literature, Special Issue: "Autobiographical Movement in the Americas," (2018)
"Milk Poems and Blood Poems: Womanhood, Embodiment, and The New Nicaraguan Woman," a/b: Auto/Biography Studies, (2018)
"Distinguished Ladies" and the Doctrine of Womanhood: Auto-surveillance and Auto-performance in Diamela Eltit's E. Luminata, The Journal of European Life Writing (2017)
Return to Institute Information
Day 2: Storytelling Beyond Plot: A Very Short Introduction to Narrative Theory by Prof. Felicia Jean Steele
Day 4: Flash Fiction by Prof. Madeline Anthes