The English Department at The College of New Jersey (TCNJ) is offering a summer institute for English language arts teachers on "The Power of Story."  The four-day institute provides 20 hours of professional development, covers a wide range of topics, and is taught by TCNJ faculty.
Day 3: Storytelling Beyond Plot: A Very Short Introduction to Narrative Theory 
When we think about narrative, we generally think about plot: the progress of characters through a set of challenges and changes that take them from one state of being to another. As teachers, we can map other elements of novels onto plot easily. We have characters who cope with various conflicts in a particular setting to explore a set of themes. Yet narrative theorists posit that the way that we tell stories, the levels of language that characters (including narrators) use, create a variety of different structures that we recognize as genres.
In this one-day workshop, we will have a very brief introduction to three major narrative theorists whose work draws attention to language and structure in narratives, particularly novels, and who provide us with a vocabulary that we can use when teaching how to read (and produce) narratives. We will use Mikhail Bakhtin's concepts of heteroglossia (multiple languages) and the chronotope (spatial descriptions of time) and Gilles Deleuze's and Félix Guattari's concept of the rhizome (a non-hierarchical structure useful for dealing with contemporary fiction). We will be using Alan Moore's graphic novel, Watchmen, to illustrate these concepts and to demonstrate that these theoretical frameworks can be used to describe fiction of all sorts and forms.
Felicia Jean Steele (facilitator on Day 3)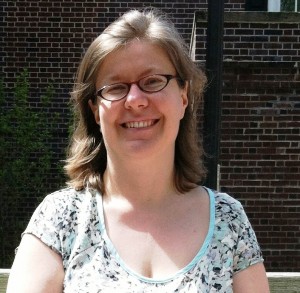 Felicia Jean Steele received her B.A. from the University of New Mexico and her M.A. and Ph.D. from the University of Texas at Austin. She teaches courses in introductory linguistics and the global history of the English language, as well as courses in early literatures and medievalism in British literature. Professor Steele's main research is in historical linguistics, specifically auxiliary verb change over the history of the English language. She has also published essays in historical phonology, the uses of linguistic analysis in discussions of literary influence, the relationship between J. R. R. Tolkien's scholarship and Seamus Heaney's translation of Beowulf, and the teaching of the History of the English Language. She has presented her work on community engaged pedagogy and the study of American Dialects at the American Dialect Society meeting and her work on teaching Dictionary Skills at the Dictionary Society of North America Meeting. She also maintains research interests in lexicography, cognitive linguistics, medieval literature, and the literature of the Inklings, particularly J. R. R. Tolkien and C. S. Lewis. She is one of the co-sponsors for Sigma Tau Delta, the English Honor Society. She serves on the national board of Sigma Tau Delta as the Eastern Regent.
Return to Institute Information
Day 2:  Mí María: Disaster Narratives and the Language Arts Classroom by Prof. Lisa Ortiz
Day 4: Flash Fiction by Prof. Madeline Anthes